Yard Guards in the News
Congratulations to Sandi Hendry from Yard Guards On Doody on taking 2nd Place in the Pooper Scooper Bowl at the aPaws 8th Annual Pooper Scooper Convention in San Diego, CA October 16, 2010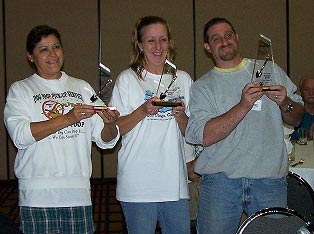 above from left to right: Maria Stone, 3rd place, from Scoop Masters from California, Sandi Hendry 2nd place from Yard Guards On Doody and Ron Vecchio, 1st Place, from Minesweepers from New York.
Yard Guards On Doody wins the 2010 Keep Hillsborough County Beautiful Award for Most Committed Group.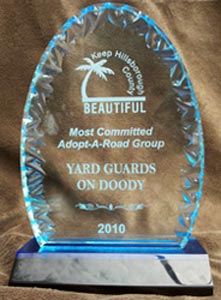 right: Most Committed Adopt-A-Road Group: Yard Guards on Doody
Yard Guards on Doody has adopted four sections of roadway since 2003. Over the last year, the group conducted 19 cleanups collecting more than 1,200 pounds of trash. They are avid volunteers for Keep Hillsborough County Beautiful participating in many of our events on top of their road duties including the Great American Cleanup and International Coastal Cleanup. The owner of Yard Guards on Doody, Cheresee Rehart, has been a leader organizing her family, staff and members of the community assist. She has shown her dedication by facing ants, toads and cockroaches to re-bag another groups' trash bags that were left behind for six months so KHCB could get them removed.