Yard Guards in the News
Yard Guards On Doody, places 2nd and 3rd in the 2006 aPaws National Turd Herding Contest in Orlando, Florida.
The Meeting Of The Scoopers:
Posted 03.02.2007 by DungDaddy (1185) The Poop Report
"Normally, you can tell when a dog doesn't want you there." So says Dave Silva, a young entrepreneur with strong features and an easy manner, as he explains to me the day-to-day of his business.
"But sometimes things seem perfectly normal, and you bend down to pick up some poop, and you still end up with teeth in your ass."
I'd walked in to the room a bit late due to an unscheduled meeting with the Nevada Highway Patrol. By the time I got there, most everybody was well lubed up. I sought out my contact man, Jeff Morgan, and he introduced me to a half-dozen people just like Dave Silva: men and women who scoop poop for a living. Less than twenty-four hours later, I would be competing against them in their trade: PoopReporter versus Pooper Scoopers.
The American Pet Association estimates that this country's seventy-one million pet dogs produce over 4.4 billion pounds of waste every year. That's enough to cover nine hundred football fields with twelve inches of dog waste. And there I was in Vegas, 300 miles, four Rammstein CDs, and untold caffeinated beverages away from my eighty employees and five children, sharing drinks and swapping stories with those who pick it all up.
I had arrived just in time for the meet-and-greet session at the 4th Annual Association of Professional Animal Waste Specialists (APAWS) conference. As a PoopReporter, I fell easily into the conversations; and, as the snacks, the drinks, and the raffle went on around me, I talked poop and poop removal with the experts, and learned all about the lucrative industry that is picking up fallen poop.
Though there are national poop-scooping franchises, most scoopers -- given the entrepreneurial nature of people willing to pick up crap for a living -- are independent. This says a lot about them. Most of the scoopers with whom I spoke relish working on their own and not being tied to an office all day long. Several of them confessed that they wouldn't fit in well in an average business setting.
While 90% of the poop they handle is from dogs, pooper scoopers deal with poop of all kind. Sometimes they pick up cat poop. Sometimes they pick up horse poop or cow poop. Sometimes they pick up goose poop, which makes sense -- think about all the times you've seen public spaces befouled in a matter of minutes by a flock of geese. Some scoopers get big contracts with zoos or parks. Some scoopers are hired by major league teams to police their grounds for dog crap.
None of them ever remember cleaning up snake poop. I asked everybody.
Scoopers generally charge on a weekly basis, by the yard or by the dog. They don't charge, however, based on the size of the dog. One would think that on sheer tonnage alone, a Great Dane would be worth more to a scooper than a Pekingese. But by scooper economics, speed is the key to efficiency -- and if you have to rid someone's yard of dog crap, you want to be able to see your targets with ease. You hope that your client has a Saint Bernard; if the pooch is a Jack Russell, you'll spend precious time just searching for its dainty gem.
Saturday morning. Ignoring the lure of the blackjack tables, I sat down for breakfast with an independent scooper named Grady. A mature gentleman, Grady proved a keen businessman able to relate operating costs to profit margins quicker than a corporate accountant. Fuel costs, driving time, geographical client density, supplies, disposal costs -- poop scooping is no business for dummies. Grady appreciates the work because it allows him be outside. Because it allows him to control his own destiny. And because he loves animals.
And that is the main tie that binds these people to their work. I didn't meet one scooper who doesn't love dogs -- I believe that's the main factor motivating them in this business. They like animals, and they want animals to live and play in clean and healthy environments. Simple.
As the morning progressed, it grew time for meetings. At first, my mind was elsewhere, focused on the main event of the day: the Turd Herding contest. It had been the buzz of the meet-and-greet session -- a competition, I was told, that afforded its winner both the admiration and ridicule of his fellows. And so I resigned myself to what I expected to be a rather bland morning session in comparison.
These sessions were anything but. They began with professional dog trainer Alfredo Rivera teaching us how to avoid getting bitten by dogs while cleaning up their living spaces -- a presentation he gives to postal workers, pool cleaners, and sanitation workers. The lessons centered on awareness and simple action that climaxed with a biting demonstration by some of Rivera's trained dogs.
I volunteered to be the guy getting bitten. But, alas, I'm too big and fat to fit into the bite suit.
Assisting Rivera was
Sergeant David March, the Animal Control Supervisor of Clark County, Nevada. Along with a couple intrepid scoopers who could fit into the blue suit, we were soon all reminded why we didn't want to wind up on Cops being subdued by a K-9 unit. These dogs bite on command. And they love their work.
Next came the culmination of months of fundraising, including the previous night's raffle: the presentation of a custom-fit bulletproof doggy vest to the Las Vegas K-9 team. On hand to receive the vest were Officer Mike Blackwell and Nicky, a wonderful three-year-old Belgian Malinois.
I could sense the pride in the room as the scoopers presented their gift. APAWS had raised over $6,200 for K-9 vests, including $4,100 from Cheresee Rehart of Yard Guards on Doody. It was touching, even for me -- probably the only person in the room to ever have been bitten by a police dog for real.
| | |
| --- | --- |
| | Clockwise from left: Tim Stone, APAWS Board; DungDaddy, PoopReporter; George Sichler, NYPD; Mike Blackwell, LVPD; and Nicky, LVPD. |
| | Pictured on the right is Cheresee Rehart from Yard Guards On Doody presenting a check, on behalf of the citizens of Hillsborough County, Florida in the amount of $4077.77 to aPaws |
Next was a talk by a collection agency on how to collect payment from deadbeats. At lunch I had an engaging conversation about publicity and advertising with Red Boswell, "entre-manure" and CEO of Pet Butler, a nationwide scooping franchise and one of the nicest guys ever. His website not only has one of the funniest scooper pictures ever, it also has a Turdometer tallying up the poop he and his associates have scooped to date.
As of today, that's over 36,300,000 turds.
And then came the event everyone was waiting for. And I do mean everyone -- for this, scoopers came out of the woodwork (or the bar, or the blackjack floor). Attendance roughly doubled. The Turd Herding Contest was the chance for professional pooper scoopers to show off their skills to each other as they picked up as many turds as possible in a two-minute period from a regulation yard -- in this case, the lawn by the Riviera's outdoor pool.
Technique made the difference. Many different containers, shovels, buckets, and grabbing-contraptions were employed, but the fastest and cleanest scoopers were the ones who donned latex gloves and just mucked the poop straight into buckets or bags. It was a lot of fun, and although some of the scoopers were clearly more serious than others, there were few attendees who did not participate.
I borrowed a bin and mini-rake and gave it a try. I got twenty-eight turds -- not bad for a fat guy with a leg brace. But not enough to surpass Shon Hatfield of Raymore, Missouri's Stinkies, or John Bright of Alexandria, Virginia's Doody Calls, or Dave Silva, Las Vegas' very own ScooperDave.
Clockwise from top left: 1) the objective; 2) hand scoopers go head-to-head; 3) veteran scooper Tim Stone shows his technique; 4) Scooper Girls show their support; 5) Vegas' own; 6) PoopReport's own.
In the Las Vegas Riviera Hotel and Casino, I found men and women who love animals. I had the opportunity to preach the Brotherhood of Poop to a receptive audience -- several APAWS members expressed enthusiasm about PoopReport. I can't wait to go back next year and welcome new members into the fold.
Marjorie Raymond from Yard Guards On Doody, preparing herself.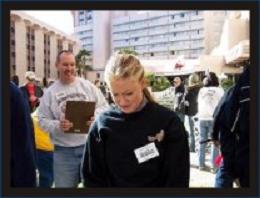 And there will be new members -- because this industry has a bright future. Most scoopers are expanding their operations. Dave Silva, for instance, has gone from a one-man part-time operation relying on word-of-mouth to four full-time employees, licensed and insured, with a reputation and an advertising budget. To repeat the line a number of scoopers quoted to me: "Business stinks. But it's picking up."