Yard Guards in the News
Yard Guards On Doody Present 15 Vests to K-9 Officers
By Leda Eaton-Osprey Observer Community Newspaper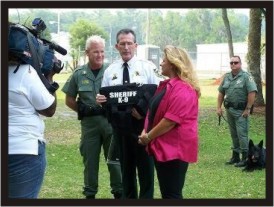 Boyette Springs resident Cheresee Rehart, owner of Yard Guards on Doody, a business specializing in animal waste collection, recently presented the Hillsborough County Sheriff's Department with 15 bullet proof vests for its K-9 unit.
Rehart's fundraising efforts began after the tragic deaths in September 2006 of Deputy Matt Williams and his K-9 partner, DiOgi. After hearing about the tragedy, Rehart started collecting money from friends and neighbors to buy bullet proof vests for the unit.
Rehart began with a modest goal of buying one vest for the K-9 unit; however, as the money began to pour into the fund, she realized her dream, to outfit the entire K-9 unit. When Rehart began collecting money, there were only four bulletproof vests available for the 21 dog Hillsborough K-9 unit.
"It wouldn't have been possible without the donations," states Rehart. "People came together and devoted their money to this cause. I had clients that contributed anywhere from $2 to $300."
The K-9 vests which normally cost $800 were purchased at cost for $400 through the non-profit Police K-9 Foundation founded by New York City police officer, George Sichler. The foundation helps raise money as well as provide resources for purchasing K-9 vests.
K-9 Sergeant Ron Cain praised Rehart's efforts.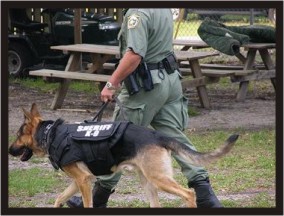 "It would have taken us years to get that many. She bought top of the line vests. They're lightweight and made to fit each dog. These are similar to what the deputies wear. We are very grateful."
Billy Bob Lynn, a former police officer and animal lover, read about the fund in the newspaper and donated money for two vests. Lynn states, "The K-9 dogs become a part of the officer's family. There's a lot more at stake here than the life of a dog. Losing a police dog affects not only the officer but his family as well."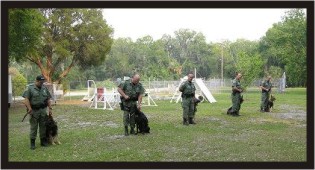 Now that Rehart has outfitted the K-9 unit, she is determined to also buy vests for the two bloodhounds on the force.
"My dream is that they'd never have to need them," she says.
To contact Rehart, e-mail Yardguards@gmail.com or call 657-9797. For more information about the Police K-9 Foundation which currently has 100 K-9 dogs in need of vests, go to www.policeK9foundation.org.